Family Eye Doctor and Dry Eye Expert
Durango's ONLY Intense Pulse Light Dry Eye Treatment Center.
We established Peak Eyecare to provide exceptional eye health and vision care while fully engaging in our patients' well-being and life. We practice evidence-based medicine in conjunction with our understanding that lifestyle and environment implore us to treat every patient uniquely. We strive to achieve sustainable homeostasis for each patient's ocular health and enjoy walking alongside patients during every life stage. At Peak Eyecare, you can expect our entire team to take an interest in you as an individual to ensure that your vision, eye health, and eye comfort enable you to thrive.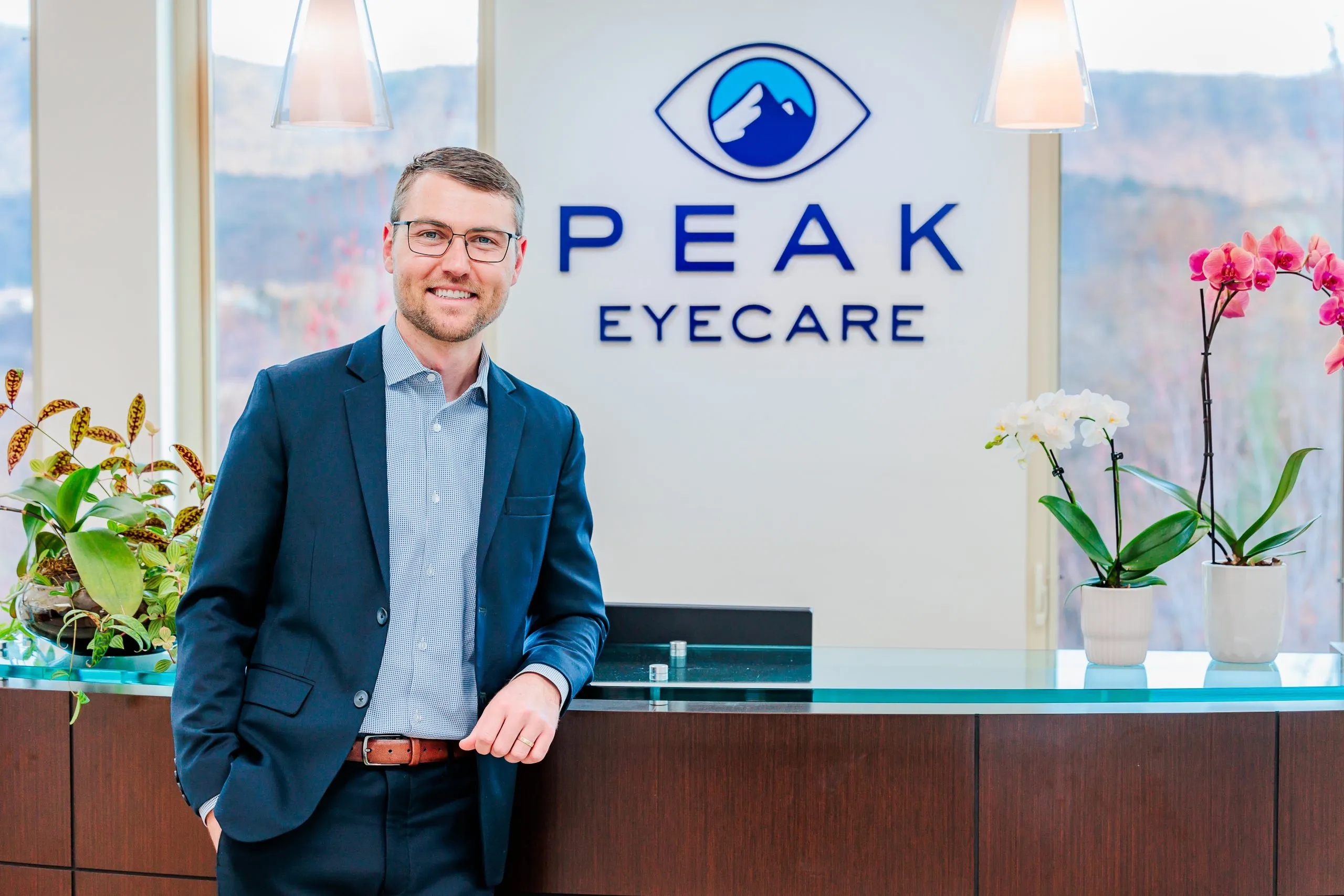 Complete Eye Care Services
A Wide Range of Eye Care
Dr. Capaccioli will spend ample time with you to provide a thorough eye health evaluation and to determine if any corrective lenses are needed. He will explain the many options you have for correcting your vision, and his highly trained staff will fit you with the appropriate specialty eyewear, helping you pick out the most stylish and flattering pair of glasses for your face shape and skin tone.
Are your eyes ever irritated, tired, dry, or frequently red or burning? You may be experiencing dry eye.

We strive to provide our patients with the best solution in the latest lens technology.

Myopia refers to nearsightedness and can lead to an inability to function without glasses or contacts.
Our new patient appointments always begin with a comprehensive eye exam.
About Our Eye Doctor
Dr. Davis Capaccioli, O.D.
Dr. Davis Capaccioli completed his doctorate degree at the University of California at Berkeley, graduating with honors, after earning a B.S. in General Biology from the University of California at San Diego. He completed his four years of optometric training with clinical rotations in the Portland VA and Palo Alto VA Healthcare Systems. 
Upon graduation, his UC Berkeley clinical instructors chose him as the recipient of the GP Lens Institute Clinical Excellence Award for his work in the fitting and care of contact lens patients.  Along with his extensive training in glaucoma, macular degeneration, and diabetic retinopathy management, Dr. Capaccioli enjoys working with specialty contact lenses, including scleral lenses for irregular and post-surgical corneas, and pediatric contact lenses to slow the progression of nearsightedness (myopia).  He is particularly passionate about Dry Eye Disease management, and created Peak Eyecare to provide premier dry eye treatment options. Dr. Capaccioli moved to the best place in the world in 2017 with his wife Kira, and welcomed their firstborn son Owen in 2023.
Google reviews
What Our Patients Are Saying:
If it were possible to give Dr.Cap 10 stars id do it. Dr.Cap is by far the best eye doctor my family and I have ever had. We met him back when I was in middle school and my brother was in elementary, I am now in college and my brother about to graduate highschool. We've hopped around to all the clinics he's moved to, even the ones out of town! The reason is because he is seriously the best. Whenever I've gone to other eye doctors, their prescriptions always give me headaches and cause my eyes to be so tired by the end of the day. Dr. Cap is so knowledgeable about the field he works in that the contact lenses feel as if they wernt even there I can see so clearly! No irritation, no dryness, no redness. Dr.Cap is a really great person overall, always showing genuine interest in his patients and giving the best possible care to each one. We're so happy for him to see him open his new clinic! It looks amazing!
Dr. Davis Capaccioli is an amazing practitioner. My daughter went for a routine exam and he identified a possible link to a medical condition, discussed it with her and contacted her PCP office to report his findings. As an RN for 43 years, I can tell you that ocular findings can be key in identifying undiagnosed medical issues. We are thinking everything will be okay but I am here to tell you that this kind of practitioner is not easy to come by. If you or a loved one need to see an eye doctor-for any reason-this is THE place to go! Not to mention, his staff was very supportive and accommodating!
Dr. Cap is simply amazing! He spends so much time with me trying to get the best possible vision with scleral contacts. I have never had an experience with any other eye doctor like Dr. Cap. He also does all he can to get the insurance to cover as much as possible of the expense. I never feel rushed or like my appointment time is up. He has machines in his office I have not seen before. It is truly a state of the art facility with lots of of individual attention from Dr. Cap and his staff. It is definitely "cutting edge" as treatment and technology is constantly changing. They all make you feel so welcome. Go to Peak Eyecare! You won't regret it.
Nancy S.
I'm an older male whose endured severe dry eyes without relief for years despite using various preservative free eye solutions to relieve my burning and irritated eyes. I also have glaucoma which requires taking medications to support low eye pressures but counter the healing and soothing effect of the dry eye solutions. I consulted Dr. Capaccioli concerning my severe dry eye condition, he recommended I consider undergoing IPL Dry Eye Treatment which I researched and decided to have. To those in search of dry eye relief, I recommend discussing with Dr. Capaccioli the benefits of having the IPL Treatment because since having the IPL Treatment, I have experienced improved dry eye relief.